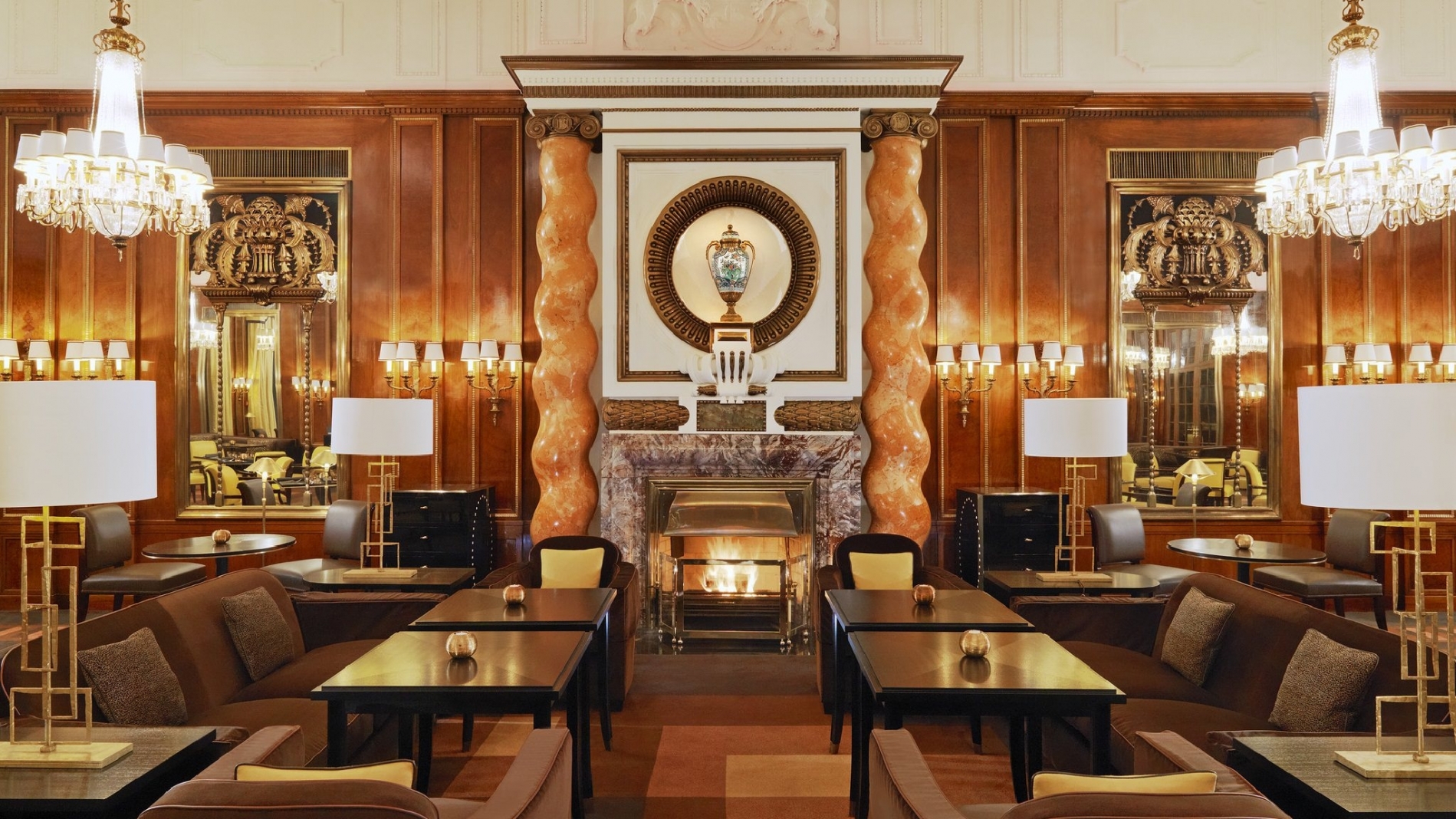 Bristol Lounge Vienna
A new interpretation of tradition
Enjoy round-the-clock dining in an authentic Art Deco ambience.
The Bristol Lounge now presents itself following extensive refurbishments as a modern all-day dining restaurant in Art Déco style with a historical ambience that is unrivalled in Vienna.
Opening hours:
Daily from 7:00 PM - midnight
Special Offers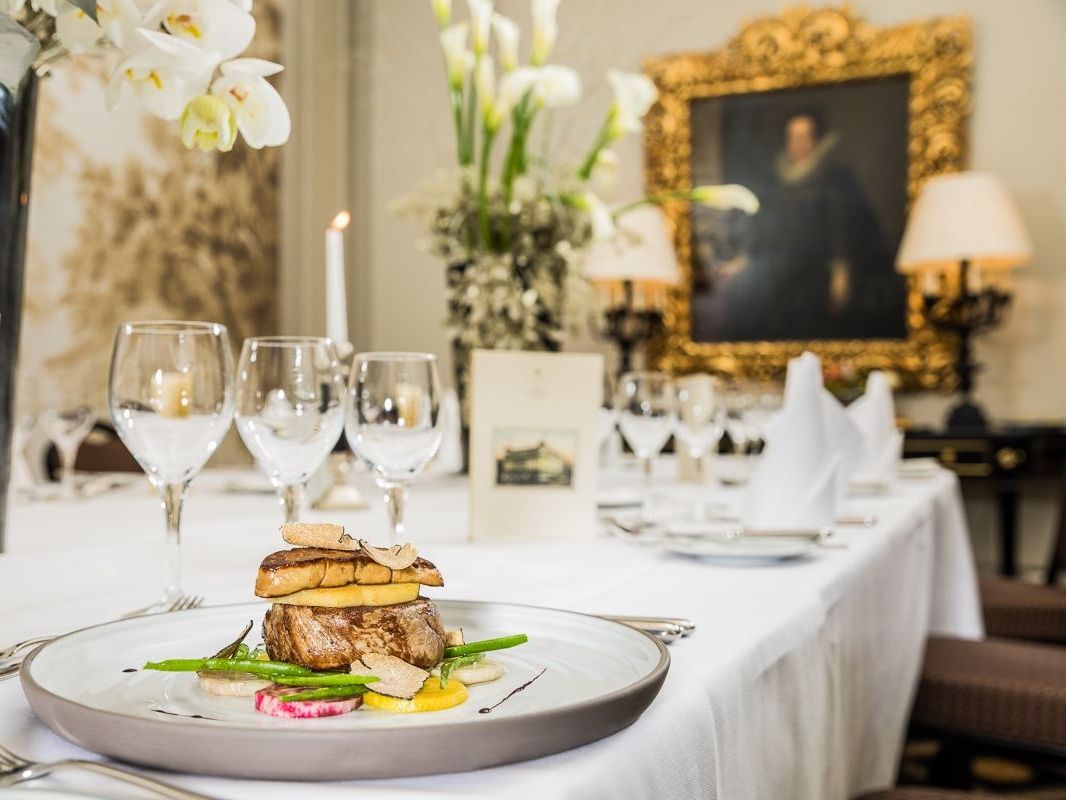 Welcome to the Viennese Ball Season!
Combine an exceptional ball night experience with an extraordinary stay and culinary Highlights ... Learn More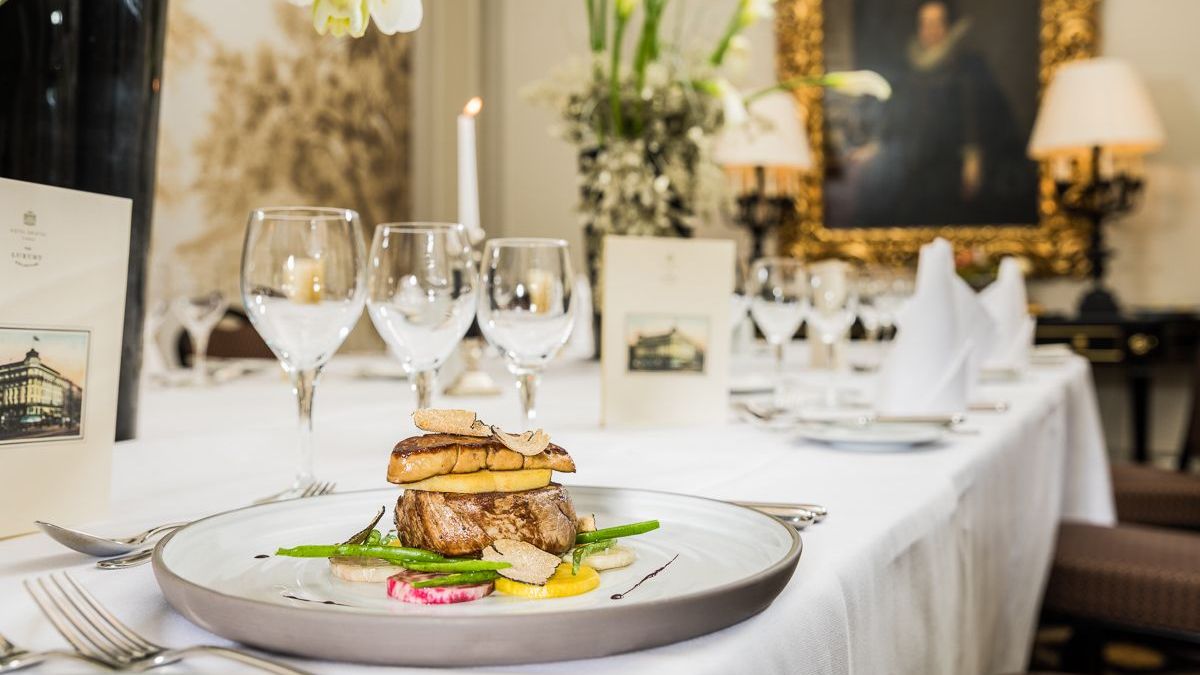 Ball Menu
Welcome to the Viennese Ball Season

The City of waltzes exuberantly celebrates Carnival in January and February each year. The Hotel Bristol offers a specially created ball menu for your ball night experience!


Our specially created menu for the ball season:

BALL MENU - 4 COURSES

Carpaccio from wild Salmon
Passion Fruit-Celery Tartlet - Wild Herbs

****

Cream Soup from Celery Root
Pineapple Chutney

****

Beef Fillet "Rossini"
Potato Puree - Truffle - Snow Peas

****

Valrhona 80 %
Raspberries

Price per person: € 94,-
incl. cover charge

Reservation:
+43 1 515 16 553
restaurant.bristol@luxurycollection.com


Photo credits (c) Lukas Kirchgasser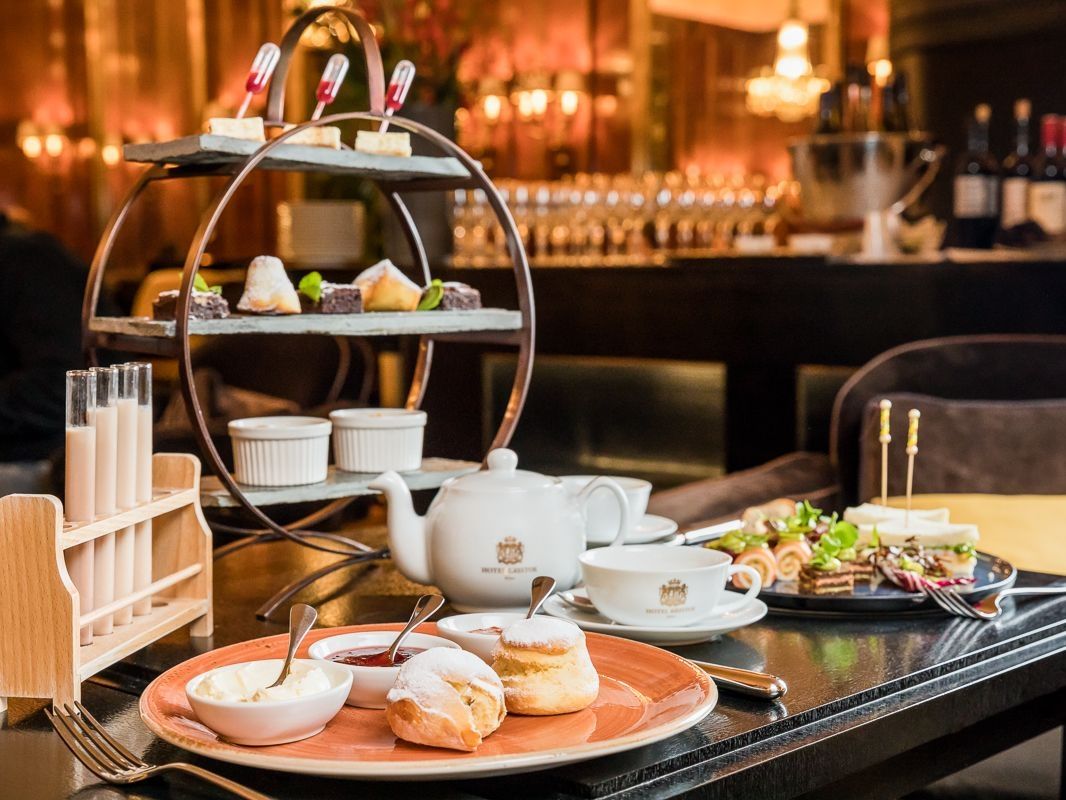 November 3rd - April 30th 2018
Experience our traditional British Afternoon Tea ... Learn More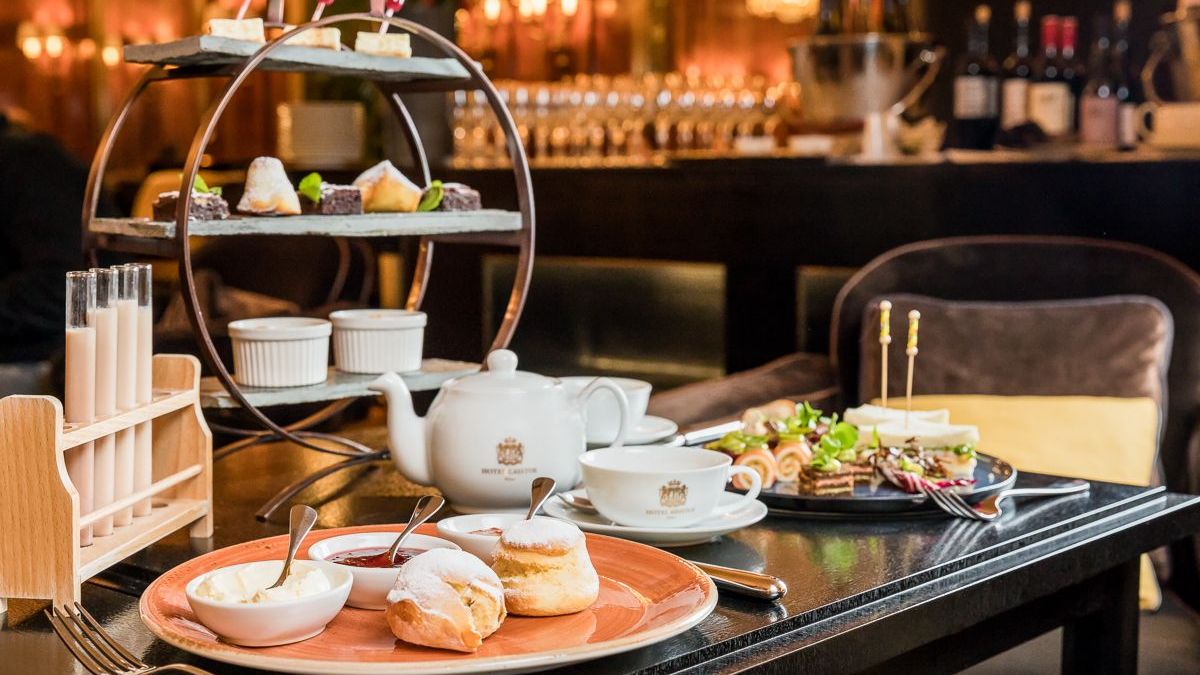 THE Afternoon Tea
From November til end of April we serve our traditional British Afternoon Tea at the Bristol Lounge.

Our Menu:

SANDWICHES & SNACKS

Ildefonso of ox-heart tomatoes
and basil

Lobster sandwiches with papaya curry
and organic egg salad

Red Tower aus of beetroot, pistacio und avocado

Smoked fillet of duck and ash of leek with Cesargel and chip of Graham's bread

Cool California of Tramezzini,
Cafe-de-Paris-cream and Ora.-King-salmon

-----

Scones with clotted cream
homemade apricot- and strawberry jam

-----

SWEETS FROM OUR PATISSERIE

Chocolate-Caramel-milk

New York Cheesecake with raspberry and amaretti

Peach Melba Mousse with crumble and vanilla foam

Orange-chocolate-brownie
with walnuts

After-Eight-muffin


€ 39 per person
including an aperitif and one portion of Tea
Friday - Sunday from 3 pm to 5 pm

Reservation required:
T +43 1 515 16 553
restaurant.bristol@luxurycollection.com

Photo (c) Lukas Kirchgasser
November 3rd - April 30th 2018
Enjoy a British Afternoon Tea in vegan style ... Learn More
Vegan Afternoon Tea
A special experience:

From 3rd of November till 30st of April 2018 we serve a traditional British Afternoon Tea at our Bristol Lounge. You follow a vegan Lifestyle? No Problem at all: Our Chef created a Special Afternoon Tea - 100 % vegan!

The vegan Menu:

Red radish - Donut, strawberries, chickpeas and Pumpernickel bread
Red Tower of red beet, pistcchio and Avocado
Bread- pralines with Beef tomatoe and basil
Fruity cous cous - thaler with red onion jam,
Avocado salad with lime, Treviso and watercress

--

Scones with almond-cream, homemade apricot- and strawberry jam

--

Sweets made by our Patisserie
Fruit tartlets
Amaranth-cherrybar
Bristol-frenchtoast with banana and hazelnut
Lemongrass - coconutmilk
Almond-Dalken with green pepper and strawberries

€ 45 per person
Friday - Sunday from 3pm - 5 pm
including one aperitif and one portion of Tea

Reservation required:
T +43 1 515 16 553
restaurant.bristol@luxurycollection.com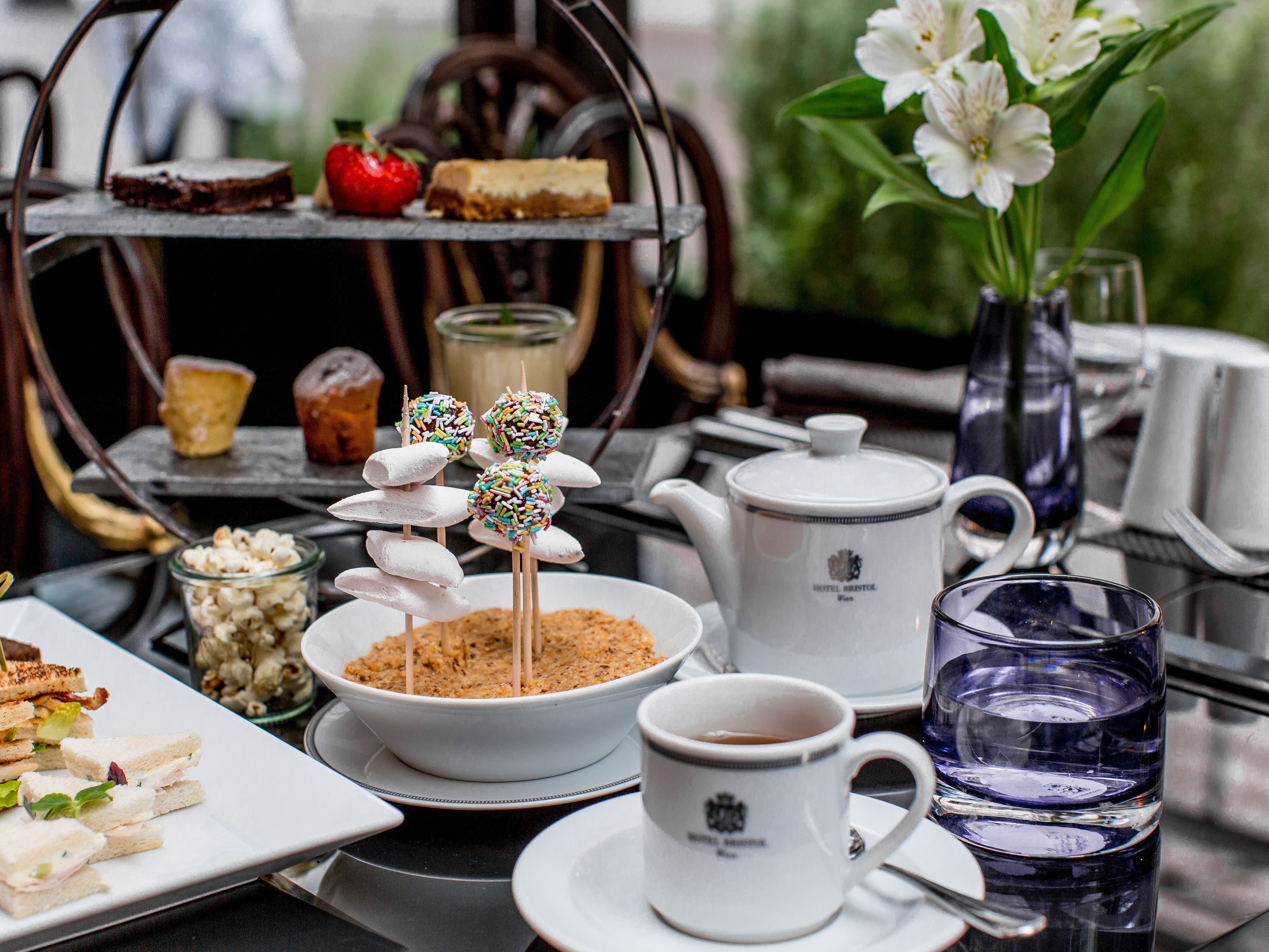 November 3rd - April 30th 2018
Mini Sandwiches and fabulous sweets to delight the Little One's ... Learn More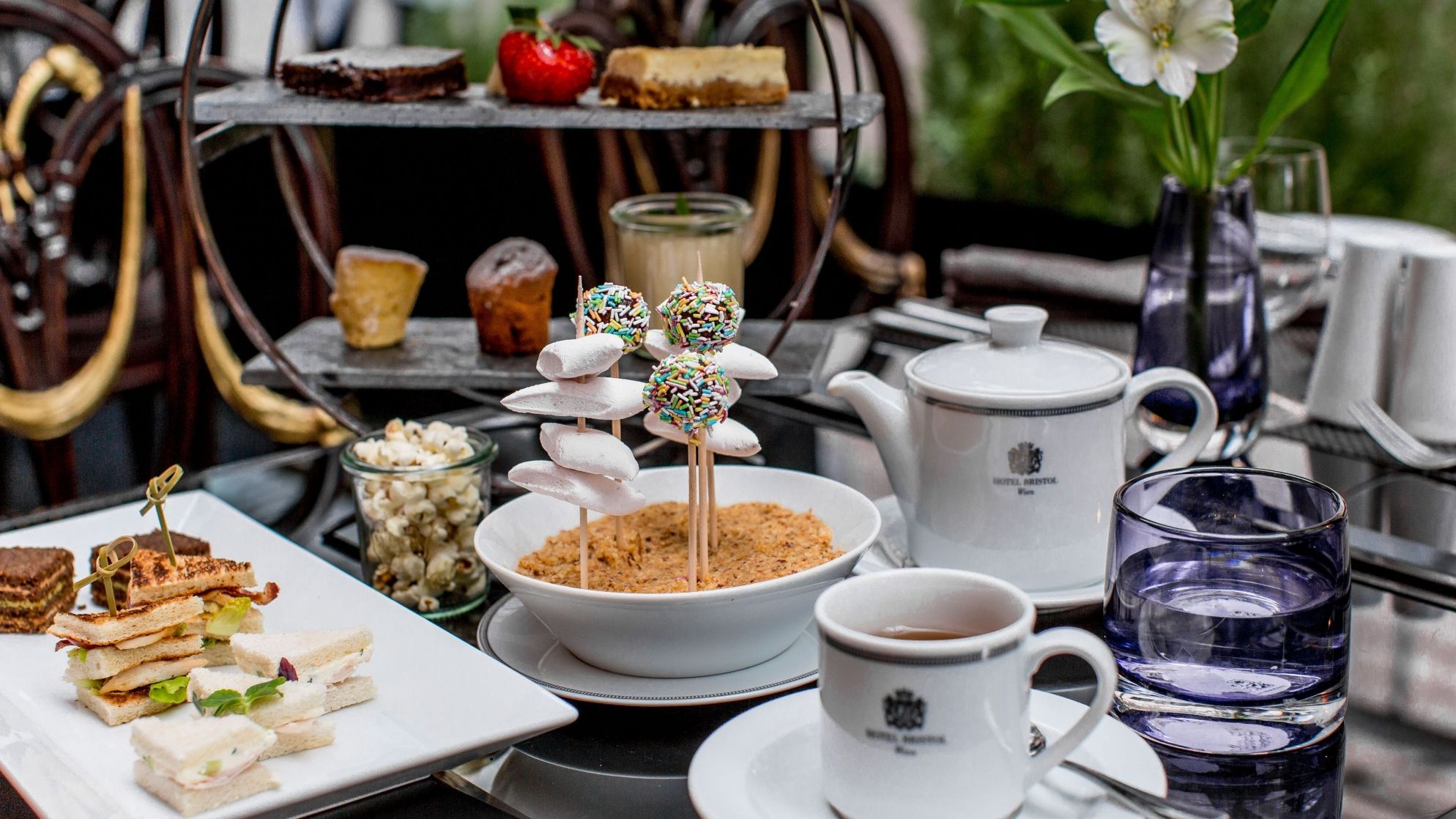 Afternoon Tea for KIDS
We serve our traditional British Afternoon Tea also for our Little guests.

Have a look at the sweet menu created by our Chef:

SANDWICHES & SNACKS

Ildefonso of ox-heart tomatoes
and basil

Mini Clubsandwich with organic eggs
and grilled fillet of chicken

Cucumber Sandwiches
with Gervais cream and fillet of turkey

Salted apple popcorn

SWEETS FROM OUR PATISSERIE

Cocoa-caramel milk

Cake Pops , marshmellows und cotton candy

Peach Melba Mousse
with colored sprinkles and vanilla foam

Smarties Brownie with walnuts


29 € per Person
including one portion of Tea or Hot Chocolate

Reservation required:
T + 43 1 515 16 553
restaurant.bristol@luxurycollection.com



Feb 8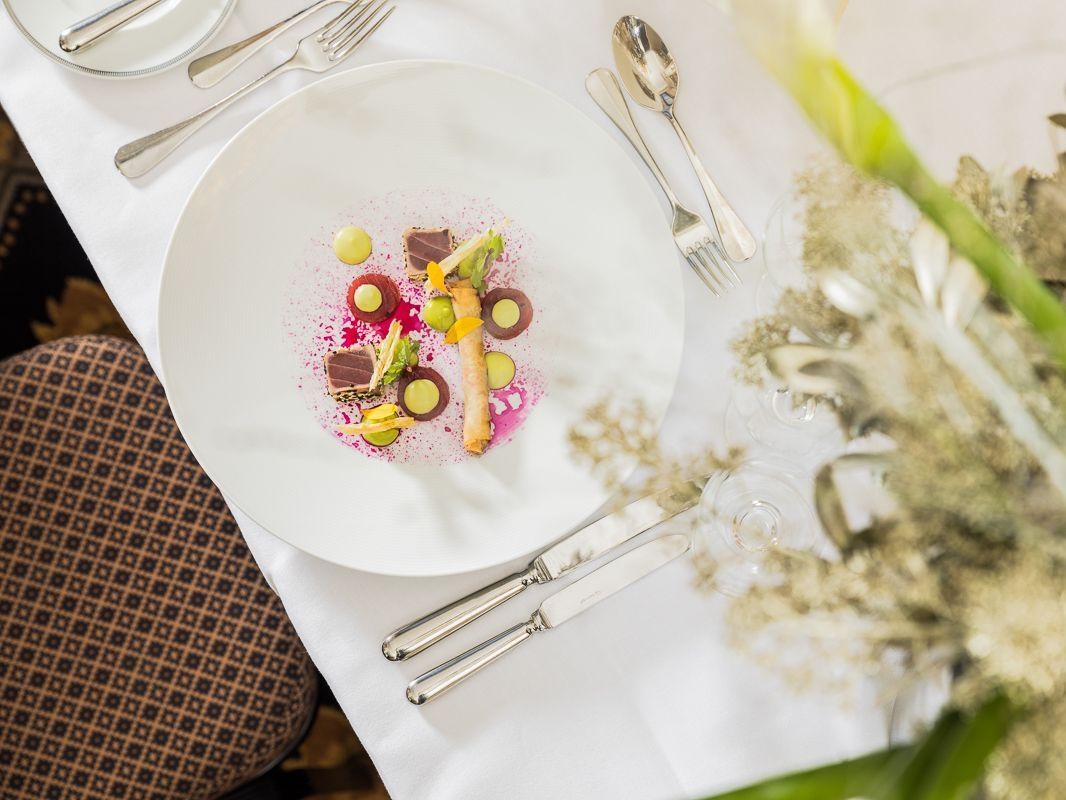 OPERA BALL DINNER
February 8, 2018
6:00 pm - 10:00 pm
It is a Viennese tradition to have dinner at Hotel Bristol before going to the famous Opera Ball at the Vienna State Opera House ... Learn More
February 8, 2018
6:00 pm - 10:00 pm
OPERA BALL DINNER
On February the 8th, 2018 the Vienna State Opera is transformed into the world's most famous ballroom. With its unique Location next to the Opera House the Hotel Bristol is the place to have dinner before going to the ball.
Enjoy our specially created menu in 4 courses:

Langoustine & Lobster
Wild Herbs

****

Tuna Fantasy

****

Beef fillet "Rossini"
Cox Apple - Truffle Jerusalem Artichoke

****

Valrhona 80 %


Price per Person: € 258
incl. cover Charge

Reservation:
+43 1 515 16 553
restaurant.bristol@luxurycollection.com

Photo (c) Lukas Kirchgasser
Location: Hotel Bristol Kärntner Ring 1
Wien, WI, AT
Feb 8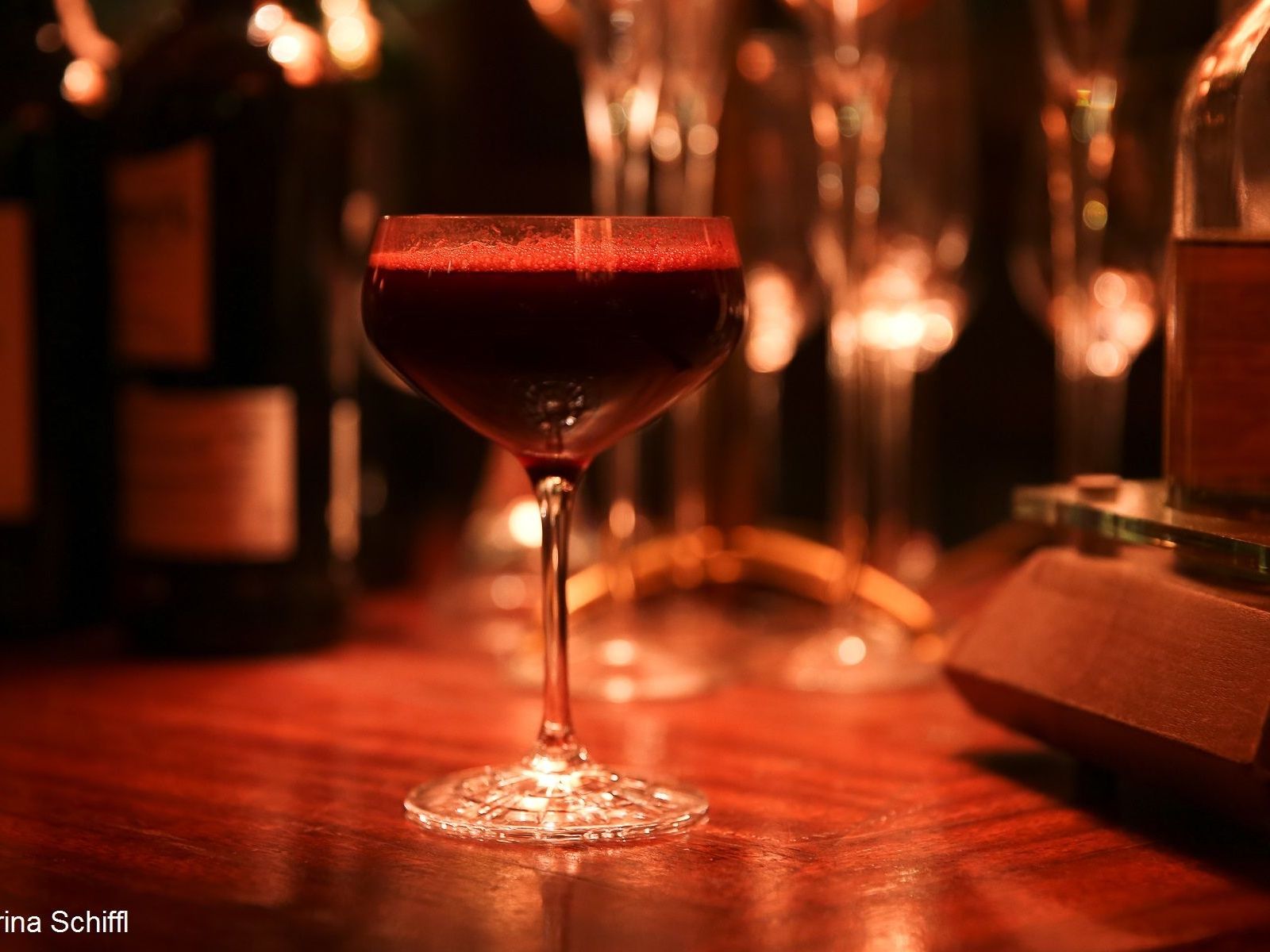 OPERA BALL NIGHT
February 8 - February 9, 2018
4:00 pm - 5:00 am
In the night of the Vienna State Opera Ball our Bristol Bar is open from 4pm til 5am Learn More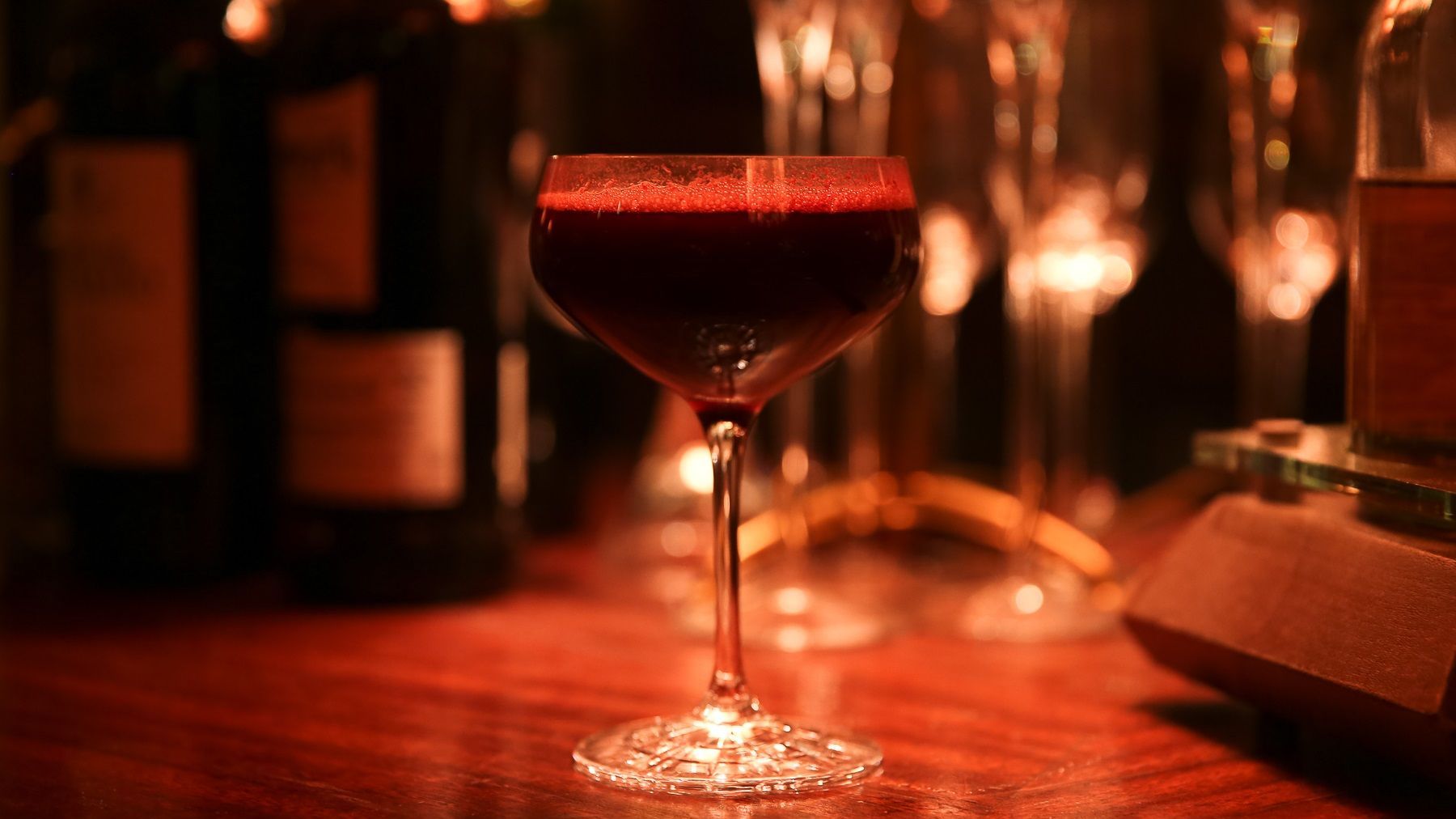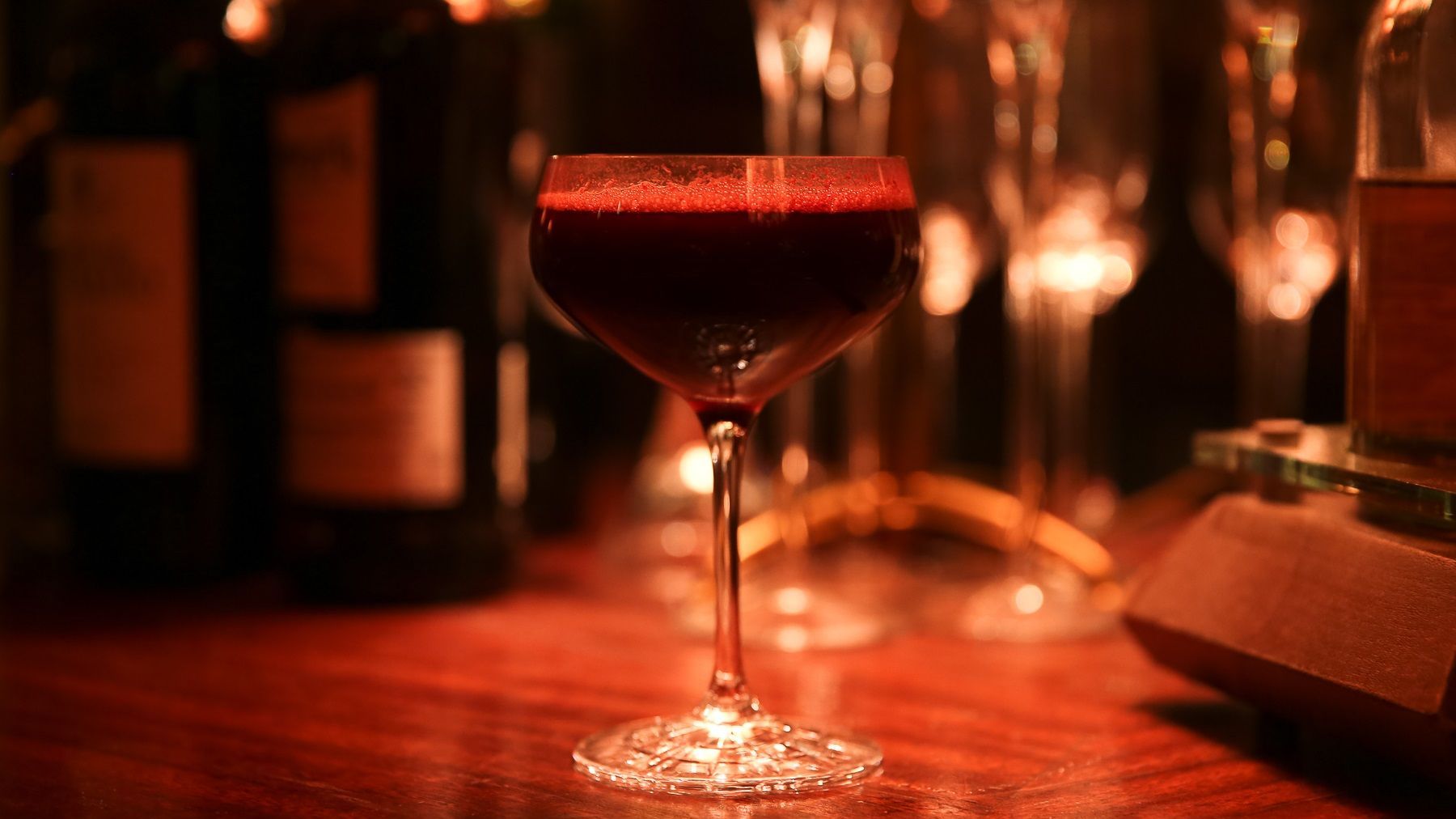 February 8 - February 9, 2018
4:00 pm - 5:00 am
OPERA BALL NIGHT
The Bristol Bar at the Hotel Bristol next to the Vienna State Opera in the heart of the city invites its guests – smoking and non-smoking – to stay in a cosy-exquisite atmosphere.

In the night of the Vienna State Opera Ball (Feb 8 - Feb 9) we are open until 5am in the morning.
Enjoy our delicious Drinks and Cocktails or have some traditional Viennese Snacks (Goulash, Sausages, ...)

We are more than happy to assist you:
+43 1 515 16 535
restaurant.bristol@luxurycollection.com

Photo credits (c) Katharina Schiffl
Location: Hotel Bristol Kärntner Ring 1
Wien, WI, AT
Feb 9
Early Breakfast the morning after the Opera Ball
February 9, 2018
5:00 am - 11:00 am
The morning after the great Vienna State Oper Ball you can enjoy our breakfast from 5am - 11am Learn More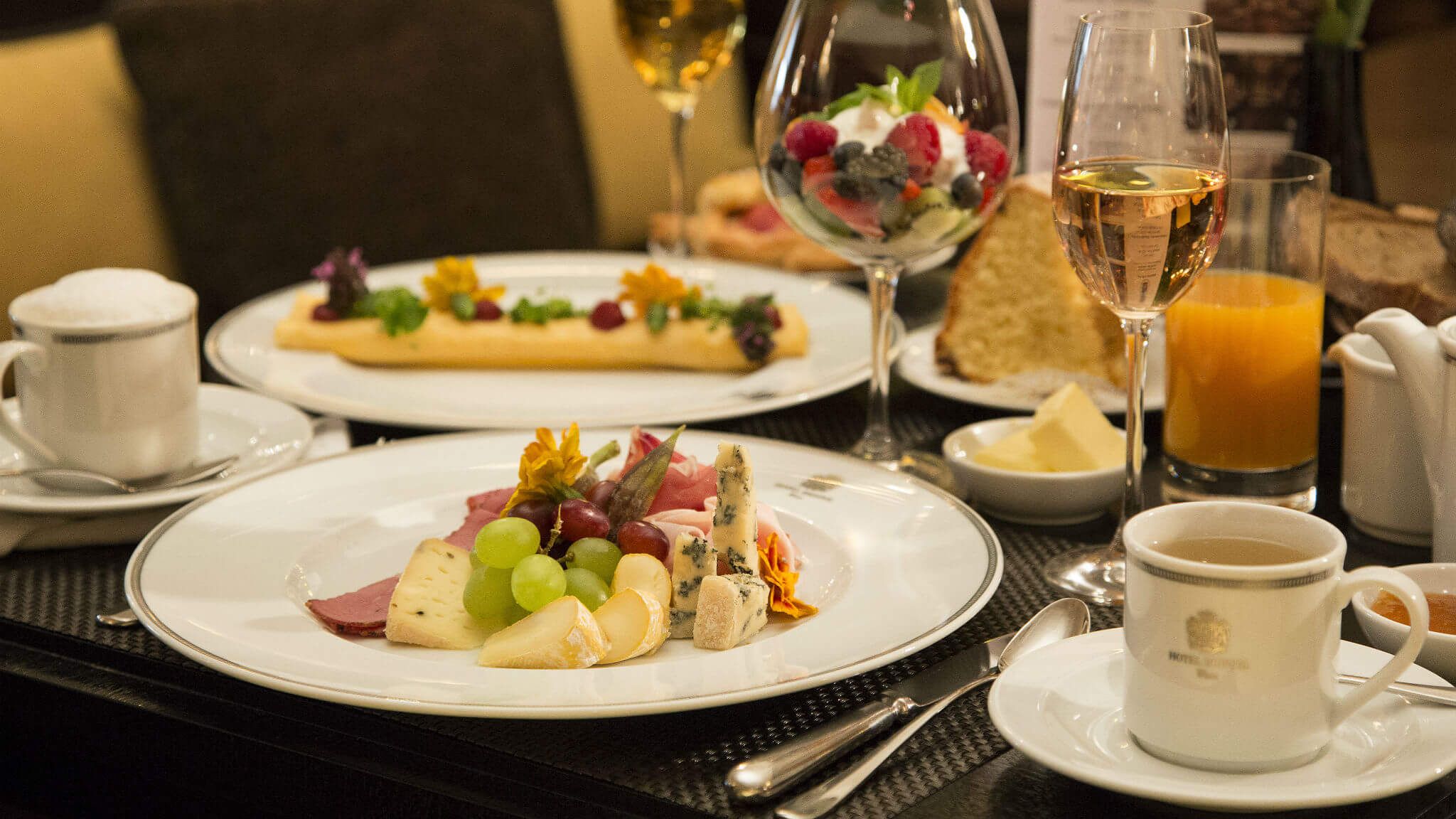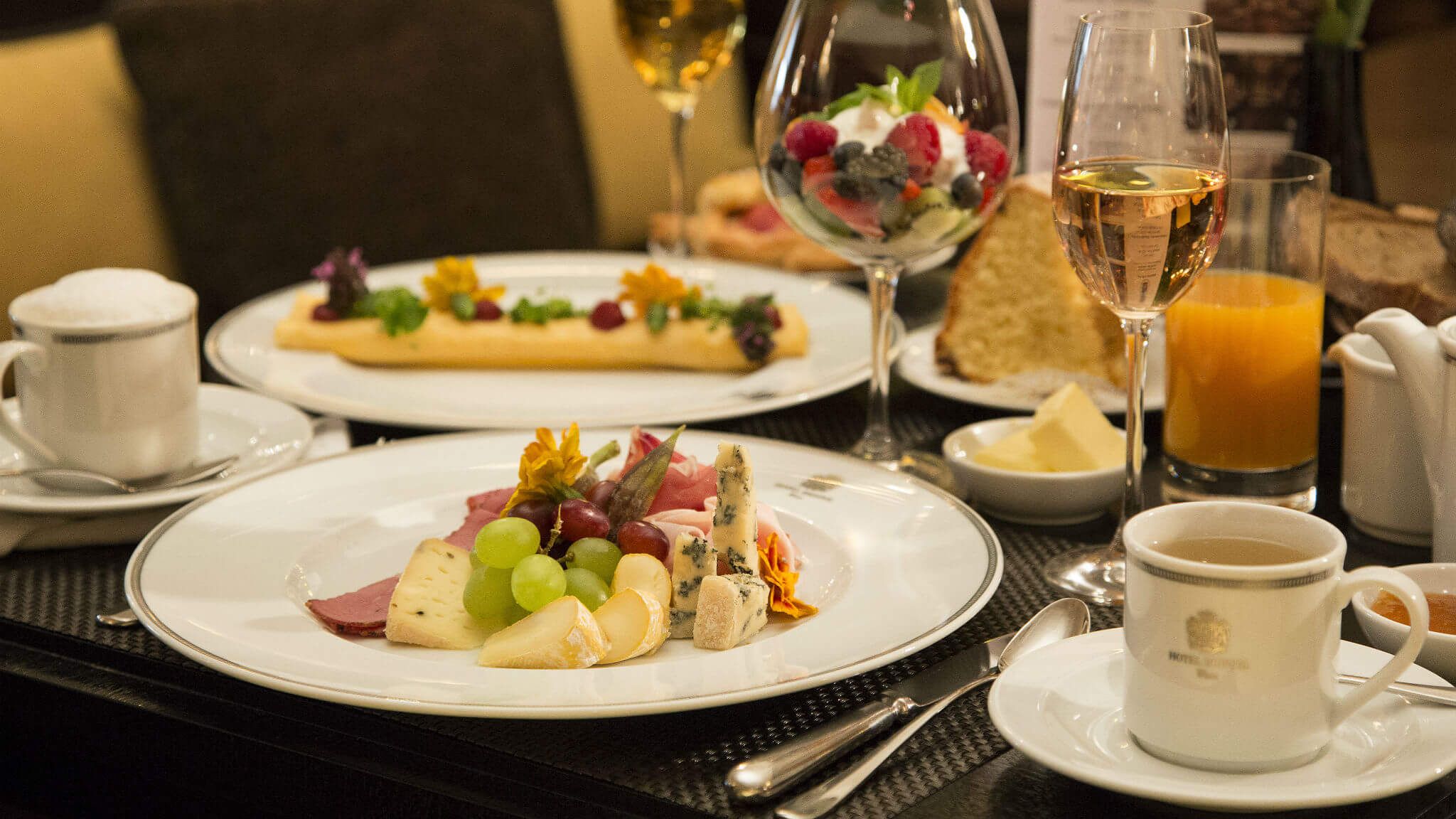 February 9, 2018
5:00 am - 11:00 am
Early Breakfast the morning after the Opera Ball
Start the day in a relaxed fashion near the Vienna Stateopera – the breakfast buffet of Hotel Bristol offers seasonal dishes, prepared from top-quality regional produce. "Joseph Brot", "Julius Meinl"-coffee and our homemade Bristol-jam are only some of them.

A particular highlight is the integrated show kitchen, where hot breakfast-dishes, like your favourite egg-dish, are prepared in front of your eyes.

Choose our Lounge or the Wintergarden with a nice view of the buzzling 1st district of Vienna, to enjoy the authentic Art Déco-feel of the historic building.

Buffet-price per person: 36€ including coffee, tea, various juices and Bristol-Sparkling-Wine.

Once a year we serve our breakfast from 5 am to 11am - the morning after the Vienna State Opera Ball, this year on February the 9th, 2018.

Reservation:
restaurant.bristol@luxurycollection.com
+43 1 515 16 553

Photo credits (c) Nina Helf



Location: Hotel Bristol Kärntner Ring 1
Wien, WI, AT