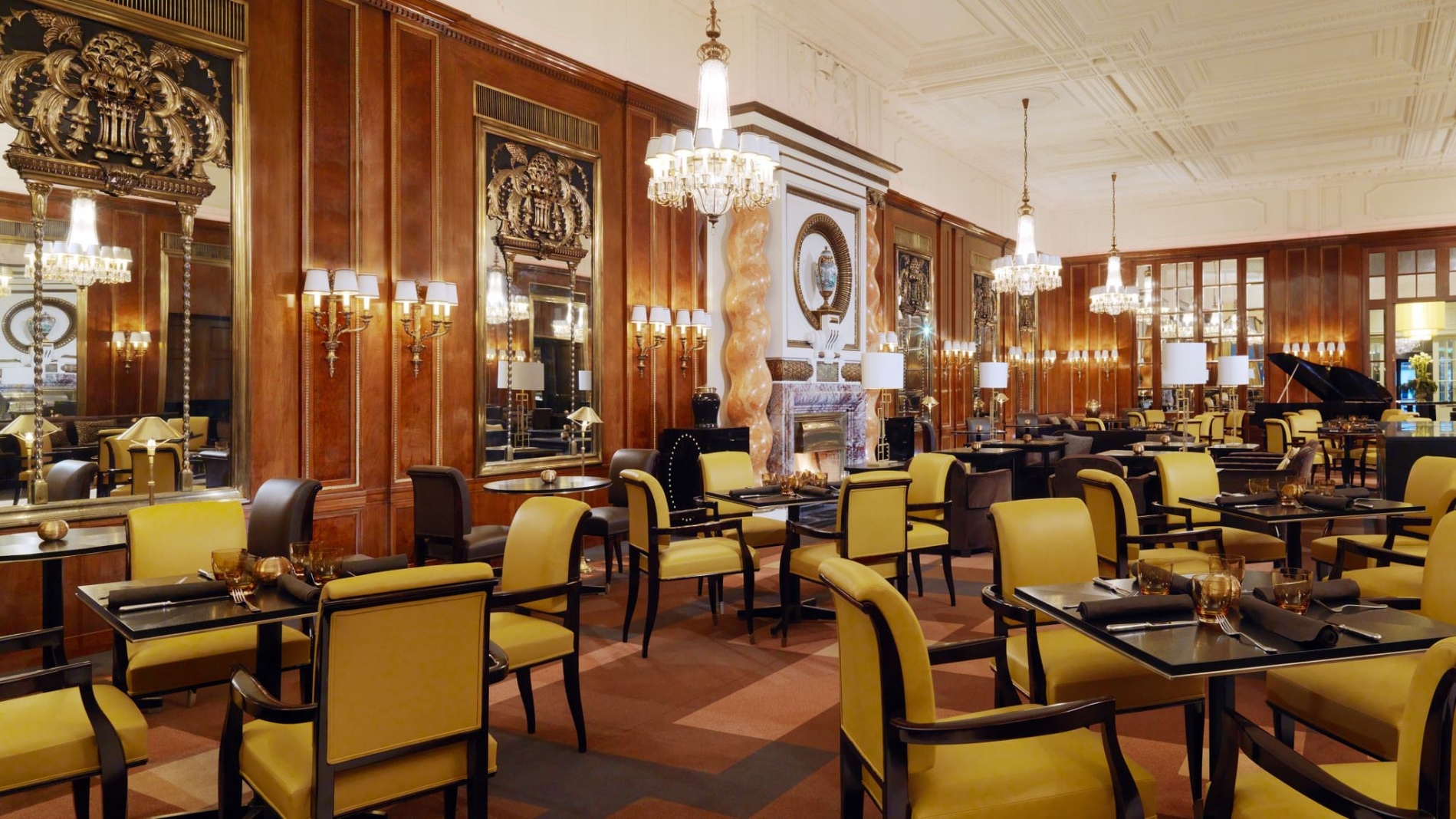 Bristol Lounge Restaurant Vienna
Tradition meets modern indulgence
Welcome to the Bristol Lounge
A new interpretation of tradition and ambiance
The centrepiece of the restaurant is the magnificent open fireplace which now shines in its original splendour, creating a romantic and cosy atmosphere. Eight original, restored crystal chandeliers and a grand piano for live performances add to the restaurant's warm and inviting feel. The comfortable seating areas and soft background music create a pleasantly relaxed lounge atmosphere.

Also a must for a modern restaurant in Vienna:

Complimentary Wi-Fi in the whole Bristol Lounge
Relaxed modernity meets historic grandeur
The Bristol Lounge's breakfast area presents itself in a stunning black aesthetic. Here, guests can take pleasure in the bountiful breakfast or brunch buffet with an integrated show kitchen.
The unique concept of the Bristol Lounge links modern casualness with historic grandeur. This is also reflected by the cuisine. Traditional Austrian dishes and international classics mingle with delicious new interpretations and signature dishes from head chef Manuel Gratzl and his dedicated team.
Innovative quality in a relaxed setting
With experimental flair, Mr. Gratzl creates his culinary delights from top-quality regional produce, whilst deliberately avoiding overstatement. In this inimitable all-day dining restaurant at the heart of Vienna, well-travelled guests and Vienna locals can enjoy casual dining, whether for breakfast, lunch, afternoon tea, a Viennese coffee speciality or a romantic candlelit dinner.
À la carte
Snacks
Business Lunch Menu
À la carte
The starter
TATAR STEAK 160 gram - 26
Avocado - Quail Egg - toast
VEAL'S HEAD - 23
Melon / Bacon foam / celery / basil marinade
CRISPY CHICKEN SALAD - 21
Herbal salad - Feta cheese wrapped in bacon - Grilled vegetables - Crispy chicken
CAESAR SALAD - 17
Roman lettuce - Anchovies - Croûtons - Bacon - Egg
with grilled prawns - 29
with grilled corn-fed chicken breast - 25
The soup
STRONG BEEF BROTH - 7
Sliced pancakes or semolina dumplings
BRISTOL "BOUILLABAISE"
Noble fish - Prawns - Fennel Ciabatta
Entremets
FETTUCCINE - 25
Crustaceans butter Sauce - "Belper tuber" - Artichoke
"SOT-L'Y-LAISSE" - 26
Roasted rack of chicken - Truffle foam - Roasted cauliflower
The main course
RED COCONUT CURRY - 20
served with fragrant Jasmin rice
with grilled corn-fed chicken breast - 26
with grilled slices of fillet of beef - 36
with grilled whitewater prawns - 32
WHOLE ROASTED SOLE - 48
Spinach leaves - potatoes - brown butter
FILLET OF CHAR - 37
Prawns - Saffron Risotto - Baby spinach
CORN FED CHICKEN "SURPREME" - 29
Crème of carrots and ginger
CHATEAUBRIAND FOR 2 PERSONS - 98
Seasonal vegetables - Potato gratin - Pepper sauce
The traditional Viennese Cuisine
CREAMY VEAL LIGHTS - 21
Bread dumpling - Goulash jus
BEEF GOULASH - 21
Bread dumplings - Creme Fraîche
VEAL ESCALOPE "WIENER SCHNITZEL" - 26
with Parsley potatoes
VIENNESE BOILED BEEF - 27
Traditional side dishes
SIRLOIN STEAK IN ONION GRAVY - 29
Green beans - Roasted potatoes - Pickled cucumber
The Dessert
CREME BRÛLÉE OF VANILLA - 14
with sorbet of blood oranges
SWEET DUMPLINGS "MOZART" - 13
served with Vanilla ice cream and white chocolate sauce
PLAIN CHOCOLATE - 14
with Vanilla ice cream and Raspberry sauce
POTATO NOODLES STUFFED WITH PLUM JAM - 13
CHEESE FROM THE DAIRY JUMI
Dark rye bread - fig mustard - grapes - nuts
Important Notice
In case you suffer from any food allergies, please consult our service staff to assist in composing your meal. Prices are quoted in Euro (€) including taxes and service charges. Cover charge is 4,80€
Snacks
Bristol Lounge Snacks
Tartar Steak - 26
Avocado - quail egg
Old Viennese soup pot - klein 12 / groß 18
Vermicelli – root vegetables - beef
Bristol Club Sandwich - 19
Breast of corn-fed chicken - bacon - egg - chips
XO Bristol Angus Burger Medium - 19
Angus Beef - Cheddar - Mascarpone - Avocado - BBQ fried onions- chips
Bristol Sausages
with mustard & horseradish – bread rolls - 8
with goulash sauce – bread rolls - 10
Traditional Viennese goulash - 21
Bread roll dumplings - Creme Fraîche
The classic - 26
Viennese escalope of veal - Parsley potatoes
Cheese from the dairy Jumi - klein 14 / groß 20
Dark rye bread - fig mustard - grapes - nuts
Sweet Snacks
Original "Sachertorte" - 6,50
With wipped cream
Bristol Cake - 5,20
With whipped cream
Homemade apple strudel - 5,60
With wipped cream
Business Lunch Menu
Lunch will be served from Monday to Friday from 12:00pm to 2:00pm -- Enjoy 2 courses for € 22 or 3 courses for € 28, 20/3/2017 - 24/3/2017
The Opening
Please choose between the following:
Honey-Girasole Cream Soup
with Mace
Tartar Steak (100g) with avocado and quail egg
Bristol Salad prepared at your table
(vegan)
The Main Course
Please choose between the following:
Grilled Fillet of Salmon
with Chili-Cabbage Pasta and Basil-Truffle-Sauce
Braised Ox
with Mashed Potatoes and Vegetables "Esterhazy"
Whole-Meal-Spaghetti
with Tomato-Basil-Sauce
Dessert
Please choose between the following
Original Sacher cake
with whipped cream
Apple strudle with Vanilla Sauce
Bristol-Amarant-Bar
with pickled cherries (vegan)